I had the most horrendous nights sleep last night. My neighbours had people over and as my room overlooks both our back gardens I was treated to a ringside seat for their (very loud) conversations. By the time they'd given up and gone to bed it was almost 4am and I was wide awake. So, I stayed awake and watched some Harry Potter and some Castle. I even managed to squeeze in half an hour on the Wii Fit! Apparently insomnia does have some upsides. (suitcases under my eyes and the tendency to rip the throat out of anyone who looked at me sideways is not an upside, FYI.)
Another thing I managed to do was finally get some 'outfit' photos - taken at 6.30am in my back garden. That, my friends, is dedication. I've been meaning to do some forever, especially since I no longer want the ground to open up and swallow me every time a camera is aimed in my general direction. Well, I do. But if I know I can delete the horrible photos then I feel slightly better about it. Slightly.
These were my first attempts playing around with my brothers camera. His is much better than mine so I've been hijacking it at every opportunity!
(They're still pretty rubbish pictures, I am definitely no photographer.)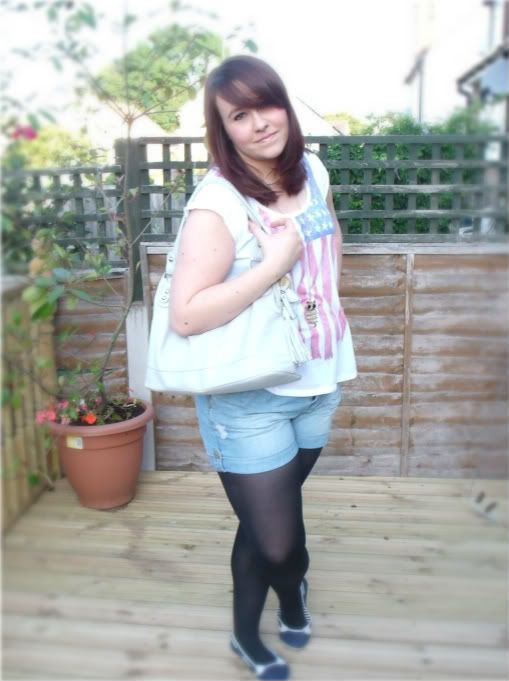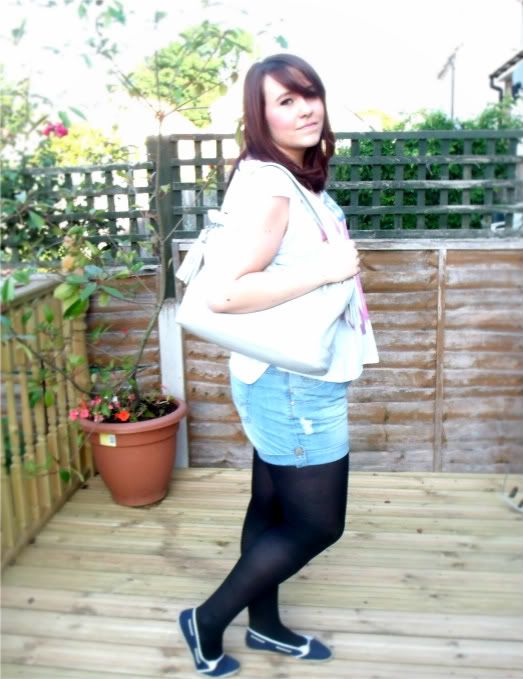 t-shirt, shorts and espadrilles - dorothy perkins
tights - m&s
necklace - topshop
bag - gifted
The main parts of this outfit that I wanted to show off were a) the shorts. I bought them a few weeks ago in good old Dotty P's and they were too small. I relegated them to the back of the wardrobe and forgot all about them until a few days ago. I tried them on and lo and behold - they fit! They're still a little snug around the thighs but they definitely fit! I'm very excited!
The other things was the bag...I am so in love with this bag, I can't even tell you. My dad&co bought it for me as a present from one of their holidays in Spain last year. I immediately fell in love with it and vowed never to be parted from it, ever. Unfortunately they went to Spain in late August, meaning that soon after their return to the UK Autumn rained down hard - and this is definitely a Summer bag! I put it away and, you guessed it, forgot all about it!! I unearthed it the other day and fell immediately in love with it again and haven't been parted from it since. I just love it so much! Its big enough to carry all my junk around in and not so big that I look like a bag lady carrying it around London. It also has ridiculously cute tassles and zips up the side to add a bit of interest. And its real leather, and new enough that it still smells amazing. Whats not to love!?
Here are a few more shots of 'the bag' in action!
Enough room for all my work stuff, plus the trusty WW Eating Out Guide and Track Book of course!
(has anyone tried the Waitrose lunch pot things? I had the thai chicken curry one today and it was yum!)
Yes, it really does hold all that stuff - makeup bag, mini deodorant, WW books and calculator, day planner, purse, keys, iPod, BlackBerry, umbrella, sunglasses, hayfever tablets and a copy of Middlemarch - without even breaking a sweat!
Best. Bag. Ever.